Setting up a Google My Business Listing is one of the most important things a business with either a brick and mortar locator and/or servicing a particular geographic area can do to establish a strong online presence.

Imagine you are a flower shop and your consumer is searching for a local florist to create beautiful flowers arrangements for their wedding. Their search will likely begin on Google.

Your goal as a business should be to dominate that local search and one of the best ways to accomplish that is by sharing your information via your Google My Business Listing.

Google accounts for over 90% of all web searches and 76% of people who search on their smartphones for something nearby visit a business within a day. Developing a robust Google My Business Listing will provide you with the opportunity to not only impress your current and future customers, but you can also increase local SEO, boost your web credibility and improve convenience for your customers.

A Free Digital Marketing Tool

A Google My Business listing is a business profile that appears on Search Engine Results pages. On a desktop computer, the listing will be displayed in a box that contains business information in the top right corner and on mobile, the box with be located directly under the paid ads. They also appear on Google Map searches. Google My Business listings act as an online directory that are populated with vital information:


Hours of Operation
Contact Information
Location
Photos
Customer Reviews
Q&A Section
People rely on what Google tells them about a business, so it's important to make sure your profile is accurate and up to date.


A Strong Foundation to Your Online Presence

A Google My Business listing is the foundation of a strong online presence. As the first opportunity to reach searchers on Google, an updated and optimized Google My Business listing can differentiate you from your competitors and can assist in gaining more traffic to your website which can lead to more revenue for your business. Other benefits include improving local SEO, boosting web credibility and providing consumer convenience.


IMPROVE LOCAL SEO
Local search results appear for people who are searching for a product or service near their physical location. Most common on mobile devices, if a consumer is searching for "coffee near me" via Google, they will be served relevant and listings nearest to their location.

Google's algorithm will favor Google My Business listings with complete and accurate information. Google offers extensive suggestions for improving your local ranking which include maintaining complete data, accurate hours, responding to reviews and more.


BOOST WEB CREDIBILITY

Having a Google My Business Listing not only provides credibility to your consumers and searchers but it also provides credibility to Google's algorithm. Since Google's verification process is fairly extensive, they will favor credible and verified listings.

From a consumer perspective, providing accurate information and managing your reputation will show searchers you are a trustworthy business that they can feel comfortable patronizing.


PROVIDE CONSUMER CONVENIENCE
We live in a fast-paced world. Having accurate information quickly and easily accessible on Search Engine Results Pages offers consumers the information they need within seconds of searching.

How to Set Up a Google My Business Listing

Follow these simple steps to set up your Google My Business listing.


STEP 1: SET UP A GOOGLE ACCOUNT

To set up a new account, go to Google My Business and select "add your business to Google."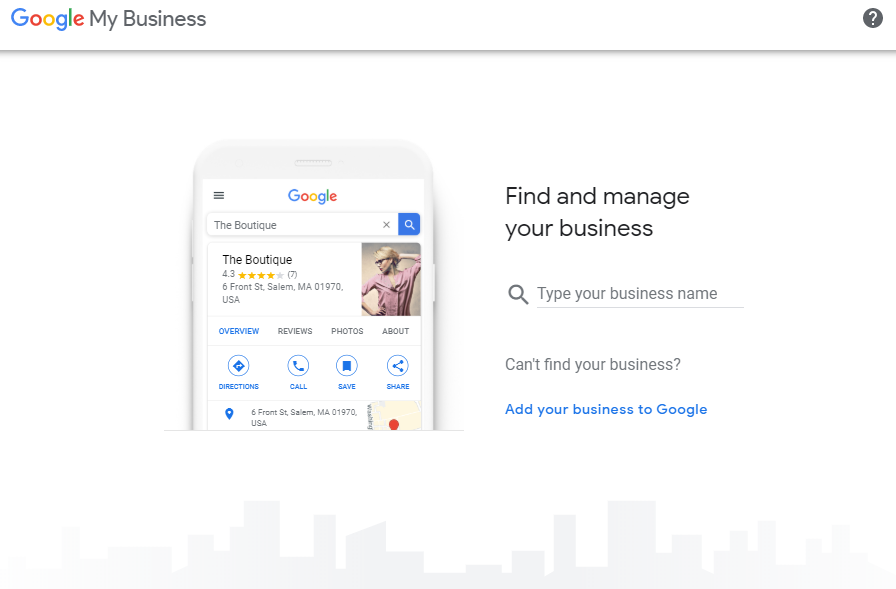 STEP 2: ENTER YOUR BUSINESS NAME
Google will ask "what's the name of your business?" Enter the name of your business in the space provided — i.e. Station Four.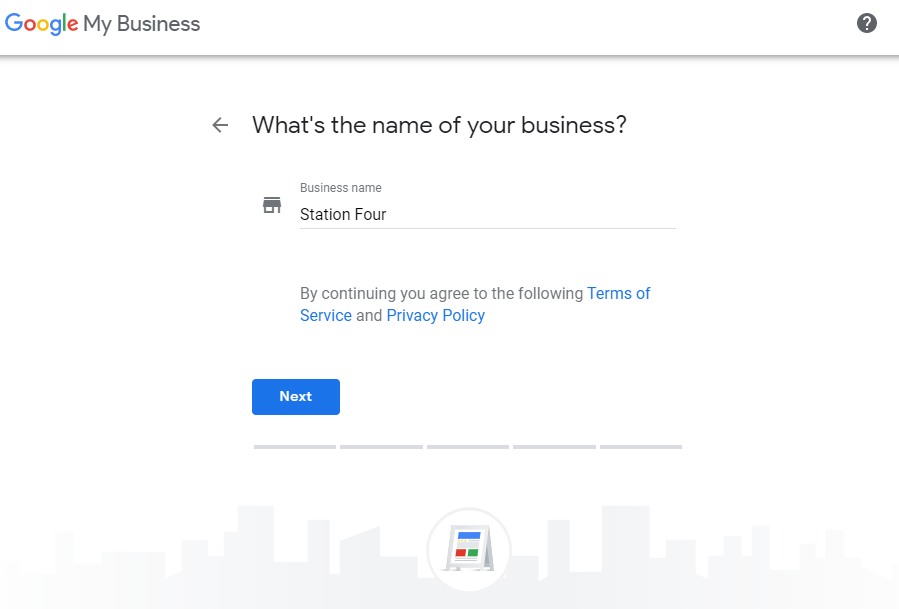 STEP 3: SELECT A CATEGORY TO DESCRIBE YOUR BUSINESS
Begin typing in the space provided and Google will autofill available category options. Choose the category that best fits your business. For example, Station Four would select website designer.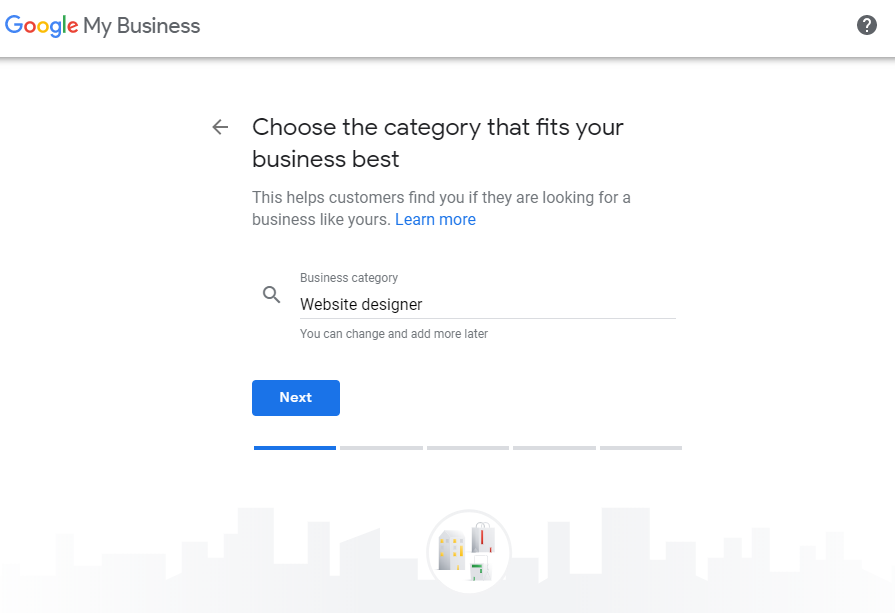 STEP 4: ADD YOUR PHYSICAL LOCATION
Google will ask "Do you want to add a location customers can visit, like a store or office?" If you have a physical location, select yes, and input your address.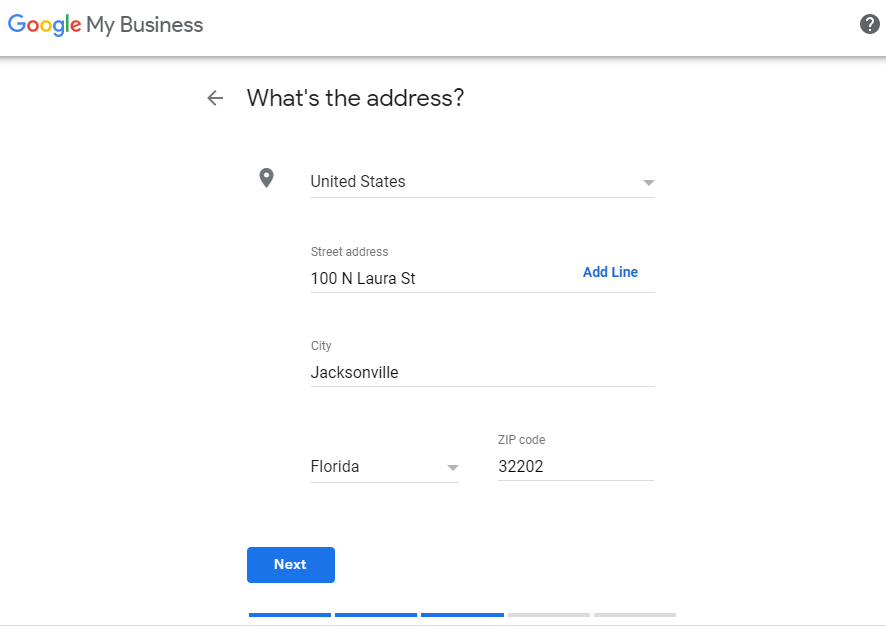 STEP 5: SPECIFY YOUR SERVICE AREAS
Google will ask "Do you also serve customers outside this location?" If you service areas outside of your city, select yes and input suburbs and other areas you provide services. For example, a Jacksonville, Florida business might also service Fleming Island, Yulee, Orange Park, St. Johns, etc.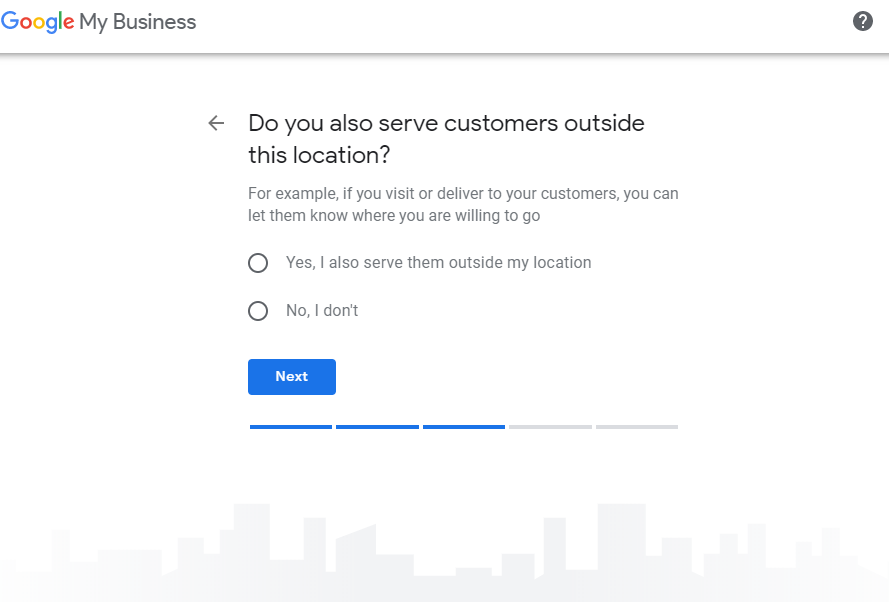 STEP 6: ADD CONTACT INFORMATION
Google will ask "What contact details do you want to show to customers?" Add your business phone number and website URL.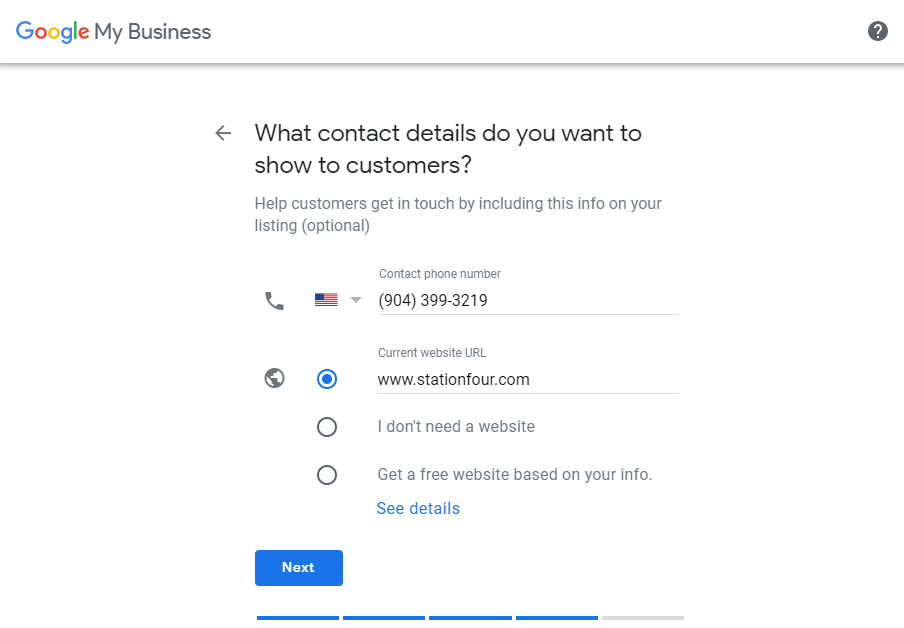 STEP 7: VERIFY YOUR BUSINESS
Google must verify your business location. For brand new users of Google My Business, you have three options:
Postcard Verification
This is the most popular option as it is available to all businesses. Google will send a verification postcard to the address you enter for your business with a unique code. The postcard should reach you within five days.

Once you receive the postcard, log in to your Google account and input the code to verify. Being time-sensitive, it is very important that you input the code as soon as you receive the postcard.

If you don't receive the postcard, you can click the 'request another code' banner at the top of the screen of your Google account and another postcard will be sent.
Phone Verification
This option is only available to some Google My Business listings. You will know if you are eligible for phone verification if you see the "verify by phone" option. Make sure you are in a position to answer your phone immediately. When you click "verify now" you will receive an automated call with a unique code. Enter the code in your Google account.
Email Verification

Like phone verification, this option is also only available to select accounts. Google will send an email with a unique code to the email address listed on your Google account. You can either click the button in the email that says "verify" or enter the code in your Google My Business dashboard.

For full details on Google's verification process, click here.
Fill Your Listing with Accurate and Robust Information
The next step to developing a strong online presence is to ensure your Google My Business is populated with accurate and robust information. Google offers plenty of opportunities for you to fill your listing with information that will better assist your customers.
Here are a few simple things you can do to build a strong and robust Google My Business Listing:
Input accurate hours of operation.

Claim your Google My Business short name under the "info" tab

Upload great photos and videos.

Add your social media profiles and links.

Craft a detailed business description of 750 words or less.
Entice Potential and Existing Customers
Your listing is the first opportunity to impress searchers when they find you on Search Engine Results pages. You must give them a reason to choose your business over another by tailoring your listing to meet your potential and existing customers specific needs.

Use the Q&A section of your listing to better understand your audience. Once you have a thorough understanding of the information your customers are searching for, you can tweak your listing to ensure you are meeting your searchers' needs.

Another way to entice potential customers with your Google My Business listing is to request reviews for happy customers and respond to all reviews on your listing. People rely on reviews to decide where they will spend their money and which businesses they will patronize so ensuring your listing is filled with this valuable information will make your listing stand about the crowd.
LOCAL SEO: THE FUN NEVER ENDS
Setting and forgetting is not an optimal strategy for your listing. Your Google My Business listing should be an ongoing piece of your intricate marketing plan. As the first opportunity to impress your audience, establishing, optimizing and maintaining a healthy GMB listing is an important part of your online presence.